Chapter 1. Autumn: Autumn in Hot Spring
Ryoko 1
They arrived at the Takafu station, surprisingly a small and simple station. Two young couples happily pushing their baby strollers passed by. Contrary to their expectations, they saw quite a few young people in the town. A big three-generation family went toward a car-rental counter; among them was a cute little girl of about three years old. Tsubasa's grandmother smiled when she saw the girl. She might have been remembering when Tsubasa was a little boy. Tsubasa tried to remember when his grandmother played with him and smiled at him like this.
"Are you Mr. Uemura?" Tsubasa thought somebody had called him and came from his reverie. The voice must be Ryoko's. She stood in front of a car parked in front of the station and waved at Tsubasa. Her voice sounded younger than it had over the phone. She wore a white cotton shirt and a pair of blue stretch pants. She wore no makeup but her clear eyes had a strong, direct gaze. She looked like a very competent person. "We are very sorry to have kept you waiting for so long," Said Tsubasa. "Not at all. Welcome to Takafu." Ryoko replied. Tsubasa and his grandparents joined Ryoko in her car and headed to the Village of Wind and Forest, a hot-spring hotel.
Takafu-cho was a peaceful country town surrounded by hot-spring hotels, souvenir shops and scattered trees. Tsubasa was relieved to see a small convenience store. "There's a convenience store and a burger shop here," Ryoko told Tsubasa. He said "Now, I feel I can survive here," and smiled at Ryoko. His grandparents were reveling in the scenery of the town. "A hot spring we visited in Kyushu was also a very nice place, but here the scenery is so beautiful because of the autumn leaves." "Indeed. What lovely colors they are." Ryoko smiled and said, "Yes, we have Texas weather, thus the leaves turn very beautiful colors. In the mornings and evenings the weather becomes chilly. Please take care of yourselves." The old couple nodded happily. Tsubasa thought he had never seen the two so delighted. He wondered why they were always quiet.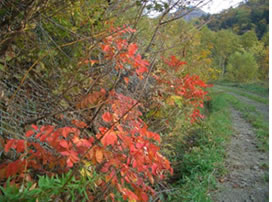 Their hotel was a log house situated among scattered colorful woods. It looked cozy with a big terrace well designed to protect privacy. In the evening sun, a wooden chair cast a gentle shadow. Ryoko opened the windows and said, "You will see squirrels and deer here." The room temperature was comfortable thanks to the floor heating system. The couple fell into a lively conversation while unpacking their luggage. "Isn't this the bag with your cosmetics? Should I put it in the bathroom?" "Could you put it on the dresser in the bedroom?" All the wooden furniture in the room was designed to be easier for older people to use. Tsubasa did not have much luggage because he was only planning on spending one night. Listening to his grandparents' conversation, which sounded like that of a newly married couple, he was embarrassed. Ryoko called Tsubasa to come to the bedroom. Holding her mobile phone, she thanked Tsubasa for sending the data on the firmness of his grandparents' bed. "I have set up the bed in the same condition as they use in Tokyo, please confirm it here." Ryoko asked. Tsubasa did not know what to do. "Sorry, I do not..." "Oh, I am sorry. Please turn your mobile phone toward this bed. Here is a RFID tag," Ryoko explained. Tsubasa pointed the data port of his mobile phone at RFID, as Ryoko had advised him to do over the telephone the other day. The data was read and a message was displayed on the screen. As a voice browser was on, the message was read aloud. The mobile phone asked Tsubasa "Shall I match the input data with the existing data?" Tsubasa answered "Yes." The system matched both data, and replied "the setting is the same." "I will ask them to decide how to handle this data. If we need to match the data with their home data again, I will ask for your assistance." said Ryoko quietly. Tsubasa did not understand fully but knew that they had finished setting the adjustment for the bed. As the system confirmed the setting, Tsubasa thought it was good. It was very convenient to transmit data about everyday objects so easily. The old couple put their clothing in a locker and stowed snacks and tea in a cabinet in the kitchen. Doors, lockers and cabinets were light and easy to use. The log house was equipped with everyting necessary to live comfortably. They would stay here only for one week, therefore they did not need to bring many things. With their ID cards, they could disclose their medical information to medical institutions nearby for emergency sickness or injury. Ryoko would assist them in case of emergency. Worries and burdens that might occur when older people travel would be reduced in this environment.