Chapter 1. Autumn: Autumn in Hot Spring
Walking around the town 1
In the morning, the whole family went to town together. Tsubasa and his parents were continually struck by how much the grandparents had changed. It seemed to Tsubasa that he and his parents had wasted time in Tokyo and on the train with all their concerns, worries and discussions. In Takafu-cho, the air was clean, the food was fresh and tasty, and everything combined to create a sense of well-being and endless possibilities.

The gloom on his father's face had lifted, and his mother looked less tired. They realized that all the people they passed on the road greeted them. Some bowed slightly, some called the grandparents by their names.
"Welcome, Nobuko-san."
"Good morning, Kohei-san."
They had been here for only one week; how did so many people in town know their names? They got a big surprise when Grandfather showed them his RUICA.
"Kohei's Japanese Sake Lecture," they read. Grandfather had opened an online course on Japanese sake, using his entire stock of knowledge on the subject. The course included a range of topics, including Kohei's accounts of bar-hopping on business trips from Hokkaido to Kyushu. His course was simple and easy to read. He revised the content several times a day and seemed to have quite a number of readers. "I have been treated as a VIP here, thanks to my course. Here, any skill is an advantage." Tsubasa and his parents were astonished. It was open to question whether regularly drinking to excess made one a specialist. Tsubasa was more interested in how RUICA was used to transmit the information. "It is easily to operate," explained Grandfather. "I search the names of sakes or regions via voice and call up the information. I add my comments via voice and then edit it. It is not difficult at all."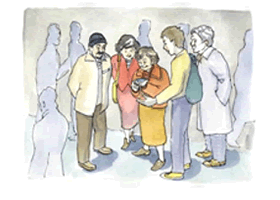 "Yes, I can do that too," Grandmother added. "I am comfortable using the system, thanks to Ryoko-san, who kindly taught me how to operate it."
Grandmother cheerfully took out her RUICA. She opened her current project on Japanese confectionary, called "Nobuko's recommendation for today's Japanese sweets".
On her site, she reviewed the sweets currently found in town and other local treats she had eaten as well. Her site had a growing number of visitors, who added comments and additional information. The site's readers included visitors to the town from all over the country as well as local residents.
"There are many traditional Japanese sweets shops to introduce, and I also want to show people my hand-made sweets. I am happy to teach people how to prepare them because I can get good ingredients here."
"Is the information on RUICA available on the town's website as well?" asked Tsubasa.
"Yes, people who live in this town are very knowledgable about it," Grandfather replied. "If one person provides information, others elaborate on it or provide necessary corrections. It's all available via RUICA or personal computer."
"Is it common for people in this town to create web content voluntarily?"
"We do not work for free, we receive rewards."
"Do you receive money?"
"Not money. We get local currency which is different from currency in other places."
"How is it different?"
"When you press the agreement button, the system issues a thanks-ticket. The ticket is convertable into that which money cannot buy, for example, one appreciation, or two voluntary works or something like that."
"I see. On what other occasions can people issue thanks-tickets besides expressing support for the content of a homepage?"
"Well, when someone takes care of you, or when something in town really pleases you."
"That sounds like the "assistance tickets" that children give their parents, as pledges to do more house chores. Is it the same thing?"